Community Development Department
Community Development Director: Jim Plonczynski
Assistant Community Development Director: Roberta Grill

The Community Development Department is responsible for planning, zoning, economic development, issuance of various permits, and property maintenance code enforcement issues. The eight full-time staff members handle numerous issues regarding residential, commercial, and industrial development projects, site plan reviews, comprehensive planning, bike path planning, and marketing to potential commercial and industrial developers. The department works with the Bartlett Chamber of Commerce on local business matters; educates residents in property maintenance matters; enforces subdivision, zoning, property maintenance, and sign ordinances; issues permits for signs, amplifiers and home based businesses (home occupations) . Staff works with developers within the Village's Town Center Tax Increment Financing District, the Brewster Creek Business Park Tax Increment Financing District, the newly established Route 59 and Lake Street Tax Increment Financing District, the Bluff City Industrial Park with the Vulcan Materials underground mining operation, and the Blue Heron Business Park. The department also provides staff support to the Village Board, Economic Development Commission, Plan Commission, and the Zoning Board of Appeals.
Upcoming Public Hearings - Information & Exhibits
@ Zoning Board of Appeals -- 6/6/2013 meeting
Case #13-13: Mahorney-959 Cuyahoga Dr. – Variation-Pool in Side Yard (see plans)
Community Development News & Highlights
Zoned for Business

Siri Indian Grocery has opened at 947 S. Route 59 in the Apple Valley shopping plaza (near Oberweis Dairy Store). Owner Sunder Nookala provides a full range of Indian food products, including snacks, rice, flours, spices, lentils, frozen ready-to-eat items with and without meat, samosas, naan (flatbread) and numerous desserts, including sugar dumplings.

Open daily from 11 a.m. to 9 p.m. Call 630-398-4831 or visit www.sirigrocery.com for more details.


Mathnasium - The Math Learning Center has opened at 974 S. Bartlett Road in the Bartlett Orchards shopping plaza, across the street from Jewel-Osco. Owners Amit Singh and Anjali Gupta offer math tutoring for grades K-12.
Children will receive personalized instruction and a customized learning plan based on their unique needs and goals. Mathnasium's mission is to help your child catch up, keep up, and then get ahead in math.
Mathnasium is open from 3:30 to 7:30 p.m. Monday through Thursday and on Saturday from 10 a.m. to 1 p.m. It is closed on Friday and Sunday. Call Mathnasium at 630-830-MATH (6284) or visit www.mathnasium.com/bartlett and the company's Facebook page.
Remember that you can keep up with local business-related news, events and photos on the Discover Bartlett page on Facebook.
Amended Commercial Vehicle Regulations
The Village of Bartlett Board of Trustees has amended the Zoning Ordinance with respect to the regulation of commercial vehicles, including those that contain equipment racks to carry commercial equipment and those that have signage and lettering on any side, front or rear of the vehicle. The amended Ordinance allows such vehicles to be parked or stored in a residential neighborhood if located within a fully enclosed garage or outside if they meet all of the following requirements:
The commercial vehicle must display an "A", "B" or "D" license plate; a commercial vehicle with a "D" license plate shall not exceed a height of eight (8) feet six (6) inches tall measured from the existing grade to the top of the vehicle roof
The commercial vehicle must be parked on a paved surface at least ten (10) feet from the side or rear property line of the zoning lot
The equipment and materials stored in the bed of a pick-up or flatbed truck must be covered by a commercially manufactured bed cap, cover (e.g., Tonneau cover) or tarp; and
The commercial vehicle must be owned or legally controlled by one of the owners or occupants of the residence.


This Ordinance shall expire on September 7, 2013 and will likely be reviewed for its continued effectiveness and desirability prior to this expiration date. In addition, nothing prohibits the Village Board from re-establishing all or portions of the more stringent provisions of the Bartlett Zoning Ordinance that regulated the parking of commercial vehicles in residential zoning districts prior to the adoption of this amended Ordinance. The Board can also vote to renew this amended Ordinance in whole or in part or further amend it at any time in the future.
Village Team Tracks Bartlett Foreclosures
Bartlett was not immune to the foreclosure crisis that struck the country during the recent economic recession. Though smaller percentage-wise than many areas, the number of residential properties that have been foreclosed on continues to be an issue Village-wide.

To address this concern, staff from the Village finance, community development, public works and police departments and members from the Bartlett Fire Protection District were assembled and charged with developing a system to handle these properties.

The goal of this team is to minimize the community effects identified with foreclosures which include but are not limited to the following:

~ garbage and debris remaining after the residents move out
~ utilities left on becoming dangerous and causing property damage, basement flooding or fire hazard
~ deterioration of the structure/property
~ continued maintenance of the property (i.e. tall grass in summer)
~ squatters living in abandoned homes
~ taxes and bills not paid
~ negative impact on the surrounding properties in the neighborhood

The Foreclosure Team has successfully completed a database for foreclosed properties that includes the address, parcel number, bank/lender contact information, status of utilities (i.e. water and gas shut off), property inspection report on the condition of the site and other information necessary to avert possible future problems.
The 3/50 Project
The Village of Bartlett supports the 3/50 project. Bartlett residents are encouraged to shop and dine locally when possible in order to build a stronger, sounder local economy. For more information about the 3/50 project visit www.the350project.net.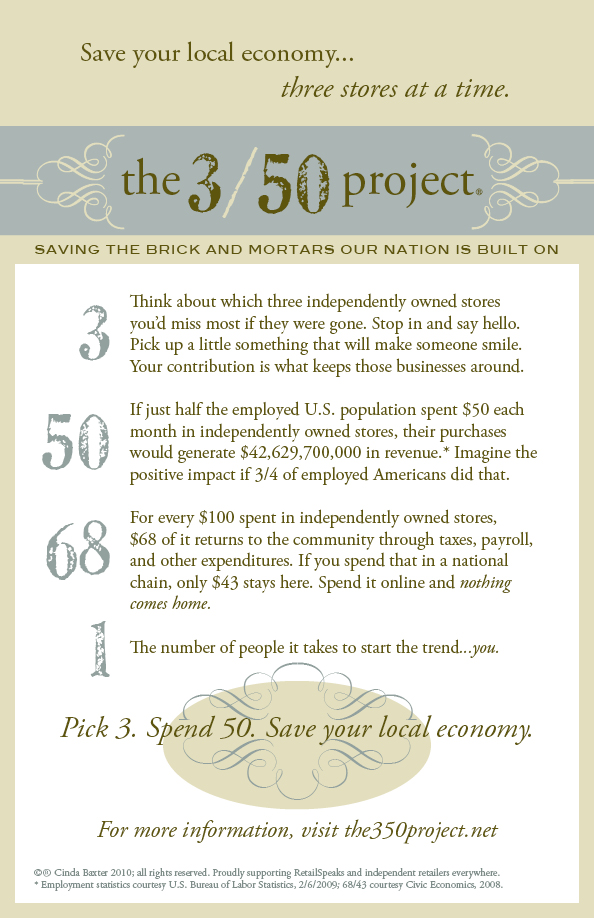 You Should Know
Code Enforcement
The Community Development Department includes two full-time code enforcement officers, who are responsible for enforcing property maintenance and other health and safety ordinances in the Village.